As a leading innovation & entrepreneurship evangelist in India, Dr. Chinchure has delivered talks and conducted sessions at various platforms attended by close to 25000 students and business professionals of various organizations around India to create awareness on innovation, intellectual property and entrepreneurship.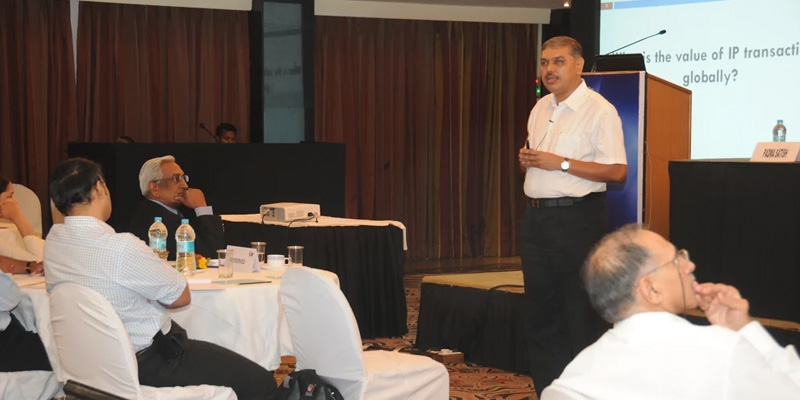 Recent Talks
29 January 2017
Moderated a keynote panel on "Putting resources to work to leverage impact" at the 10th Development Dialogue organized by the Deshpande Foundation. The resources are a key component of getting any idea to scale. With infusion of new capital into the social enterprise sector, it opens up many opportunities for impact investors and CSR to strengthen the sector. However with opportunities, also comes the responsibility of utilizing resources in ways that create sustainable impact and enables operating models to run cost-efficiently. Through relevant examples, panelists engaged in philanthropy shared their deep insights and models oneffectively leveraging resources to create impact.
---
28 January 2017
Facilitated a discussion with Dr. Rober Stoner (Deputy Director for Science and Technology, MIT Energy Initiative) and Mr. JayeshRanjan (Secretary, IT, Electronics & Communications Department, Govt. of Telangana) at the 7thYuva Summit organized by Deshpande Foundation. The Summit is a national conference on youth leadership, development and entrepreneurship put on by LEAD. Students, faculty, and entrepreneurs come together to learn and share their innovative leadership initiatives through project exhibitions.
Moderated a Panel on Livelihoods: Belling the Cat in the breakout session. We discussed the need to scale good livelihood ideas and models at a rapid scale to be able to respond to the livelihoods needs of millions of people. The panel delved into nuances and challenges of a present model and brought out tenants of a scaling models.
---
27 January 2017
Moderated an inaugural panel on "Pro-Startup Era: Making India an Entrepreneurial Country" of Startup Dialogue participated by Dr. DeshDeshpande (Founder of Deshpande Foundation), Mr. Ashank Desai (Founder of Mastek) and Dr. P. Seshu (Director of IIT, Dharwad). We had an engaging discussion on various topics, including,
Relevance of Startups for a nation, society, sustainability etc.
Changing startup landscape in the past two decades in India
Weak links in startup ecosystem in India
Role of academic institutes in building entrepreneurial ecosystem
Ideas to make India an entrepreneurial country
Jury to Sandbox Samvidha Finale Pitch: Samvidha is a unique platform that allows social entrepreneurs to pitch their impactful ideas that deserve support. The Deshpande Foundation aids those entrepreneurs who wish to have their ideas incubated in the Sandbox.
---
21 January 2017
Delivered a talk as a Jury to the Finale of Teenovators competition. Teenovators is an innovation challenge for teenagers conducted by Manipal University in association with INK Talks. It is a pan-India national level competition for 9th - 12th standard students. The experience of ideating, designing solutions, interacting with other innovators and industry experts in addition to presenting their projects will not only broaden the students' perspectives of the problems around them but also motivate them to think of solutions - and even become part of the solution.
---
16 & 17 January 2017
Conducted two days workshop at the Birla Copper, Dahej on "Identifying Innovation Opportunities". The workshop was focused on learning various tools for identifying innovation opportunity that creates value for the company.
---
13 January 2017
Inaugurated 8th Edition of Annual HR Summit organized by Automotive Components Manufacturing Association (ACMA) at Pune. The theme for HR SUMMIT was "Business Excellence through People – Realizing the "Make in India "Dream". Delivered inaugural talk on "Rethinking HR to realize the "Make in India" Dream". Over 90 HR professionals attended the event from various companies based in Western India.
---
9 January 2017
Conducted a session on "Succeeding in Innovation" for the existing and new innovators at the Digital Impact Square (DISQ), Nashik, India. Also, mentored three teams developing innovative solutions at DISQ. The Digital Impact Square (DISQ) is a platform founded TCS Foundation for students, young startups, and budding entrepreneurs from across India. It is an open social innovation platform designed to enhance the lives of citizens. The platform encourages innovation using digital technologies, to address the needs of citizens through their voice and that of the local administration, government, and industry.
---
7 January 2017
Delivered a talk as a Jury to the Best Alumni and Best Entrepreneur of Symbiosis Institute of International Business (SIIB) at ANUSMRUTI 2017 event at the SIIB campus in Pune.
---
Talks & Sessions - Timeline
2016
DECEMBER
Startup Samvaad organized by a-IDEA Agri-incubator at Symbiosis Institute of International Business, Pune, India (December 21)
Tata Motors' Imagineering 2016 Innovation Event, Pune, India (December 15)
Swayam Sikshan Prayog (SSP), Pune, India (December 11)
Maker Asylum and French Embassy, Mumbai (December 2)
---
NOVEMBER
Teenovators Regional Event organized by INK, Pune, India (November 19)
Global IP Era Conclave & Awards 2016, Mumbai, India (November 11)
Mahindra Rise Innovation Awards, Mumbai, India (November 3)
---
OCTOBER
Advisors Series Meeting organized by Zinnov at Amdocs, Pune, India (October 18)
---
SEPTEMBER
CSIR Foundation Day, URDIP, Pune, India (September 30)
CSIR Foundation Day, URDIP, Pune, India (September 30)
Symbiosis Law School, Hyderabad, India (September 25)
International Network of Research Management Societies 2016 Congress, Melbourne, Australia (September 12)
---
AUGUST
Youngistani Innovators Event, Orchid School, Pune, India (August 2)
---
JULY
Webinar for IP Analysts Group of I-HIPP, Bangalore, India (July 21)
International Conference on Management of Intellectual Property Rights and Strategy [MIPS 2016], NITIE, Mumbai, India (July 15)
Startup Competition, Deshpande Foundation, Hubli, India (July 7)
MAY
CII IP Summit, Hyderabad (6-May-2016)
---
APRIL
Innovation Summit, GE, Bangalore (12-April-2016)
---
MARCH
Central University of Karnataka, Gulbarga (1-March-2016)
---
FEBRUARY
Make-in-India Conference, Pune (12-February-2016)
Aditya Birla Group - Business Excellence Meet, Mumbai (8-February-2016)
Development Dialogue, Hubli (6-February-2016)
---
JANUARY
Investment Conclave, Hubli (2-January-2016)
---
2015
DECEMBER
Innovation & Entrepreneurship Summit, Delhi (14 December-2015)
SIS Patent Informatics Conference, Pune (9-December-2015)
---
NOVEMBER
Annual STEM Summit, Hyderabad (27-November-2015)
GenNext Ventures, Mumbai (24-November-2015)
E-Commerce Sustaining Business Event, Mumbai (20-November-2015)
---
SEPTEMBER
Annual GE IP Symposium, Bangalore (30-September-2015)
Shivaji College, Barshi (19-September-2015)
InnoEx Asia Conference, Bangalore (14-September-2015)
Global IP Conclave & Awards (GIPCA), Mumbai (10-September-2015)
---
AUGUST
Ayatist Summit, BJ Medical College, Pune (30-August-2015)
Eaton Engineering Centre, Pune (13-August-2015)
---
JUNE
YASHADA, Pune (30-June-2015)
Address to TiE Charter Members, Mumbai (17-June-2015)
SMB Connect Summit, Mumbai (11-June-2015)
---
APRIL
IP Day Lecture at CSIR-URDIP, Pune (28-April-2015)
IP Summit, MCCIA, Pune (22-April-2015)
wPower Summit of USAID, Delhi (16-April-2015)
Industry-Academia Workshop, CoEP, Pune (13-April-2015)
National Conference on Knowledge, Innovation in Technology and Engineering, Raipur (10-April-2015)
---
MARCH
Synnovation 2015, Lotus Business School, Pune (22-March-2015)
CII HR Conference, Pune (13-March-2015)
Manufacturing Innovation & Technology Summit, Pune (13-March-2015)
Campus Diaries Meet, Pune (8-March-2015)
---
FEBRUARY
Central University of Karnataka, Gulbarga – Science Day Lecture (28-February-2015)
British Business Group (BBG), Pune (17-February-2015)
Development Dialogue, Hubli (7-February-2015)
International Conference on Technologies for Sustainable Development – ICTSD 2015, Mumbai (4-February-2015)
---
2014
DECEMBER
Fergusson College, Pune (29-December-2014)
Tata Management Training Centre, Pune (4-December-2014)
---
NOVEMBER
Pune Inspire, Pune (29-November-2014)
Echoing Green Global Annual Conference for Social Entrepreneurs, Mumbai (19-November-2014)
---
OCTOBER
NITIE, Mumbai (31-October-2014)
PUMBA, Pune University (18-October-2014)
IIT Gandhinagar, Ahmedabad (11-October-2014)
---
SEPTEMBER
College of Engineering, Karad (27-September-2014)
Emersion Innovation Centre, Pune (15-September-2014)
IIT Madras (Address to Students and Faculty) (6-September-2014)
CII IPEX Conference, Chennai (5-September-2014)
---
AUGUST
LEAD Summit, Hubli (23-August-2014)
STEM Summit 2014, Hyderabad (20-August-2014)
IPR Conclave 2014, Mumbai (2-August-2014)
---
JULY
Smt. Hiraben Nanavati Institute of Management & Research for Women, Pune – FDP Workshop (23-July-2014)
ReDx Workshop by MIT, USA and LV Prasad Eye Institute, Hyderabad (13-July-2014)
Department of Management, Pune University, Pune (11-July-2014)
---
JUNE
Crompton & Greaves – Young Innovators Meet, Mulshi (9-June-2014)
---
MAY
TiE, Hubli (18-May-2014)
C2Ibiz, Pune (10-May-2014)
Pidilite, Mumbai (9-May-2014)
VAMNICOM, Pune (7-May-2014)
---
APRIL
Tech Mahindra Spark Talks, Pune (10-April-2014)
Intel - Gujarat Law University, Ahmedabad (5-April-2014)
---
MARCH
Department of Management, Pune University, Pune (21-March-2014)
Innovation for Emerging Markets Conference, Delhi (7-March-2014)
---
FEBRUARY
Innovation 360 Conference, Mumbai (6-February-2014)
---
JANUARY
Kumbhathon, Nashik (26-January-2014)
Sandeep Foundation's Engineering Collage, Nashik (25-January-2014)
Development Dialog, Hubli (20-January-2014)