Dr. Aravind Chinchure is a renowned academician, a corporate strategist and an innovation leader. He is an expert in the formulation of corporate and governmental policies that influence innovation and research. He holds a PhD in Physics, and has an experience spanning 25 years in R&D, innovation, intellectual property, startup venture investment, policy, social development and teaching.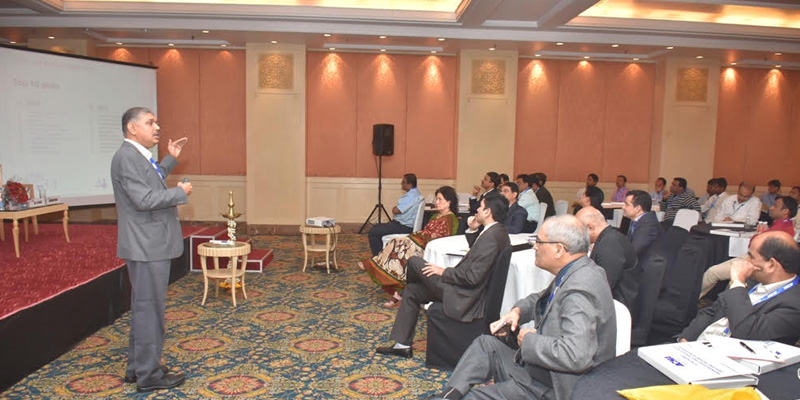 Dr. Chinchure has worked with many global innovation thought leaders and Nobel laureates on projects of national and regional significance. He credits these associations for shaping his perceptions and expertise around results-driven innovations. He was part of Indian and global research organizations, and large multinational and Indian companies in diverse technology areas, driving innovation in technology as well as leading intellectual property-driven assets creation at workplaces.
He is credited with designing and implementing India's first two-year residential and experiential MBA course on Innovation and Entrepreneurship, at Symbiosis Institute of Business Management (SIBM), Pune. Currently, Dr. Chinchure is the Chair Professor of Innovation and Entrepreneurship at the Symbiosis International University, Pune, India.
Innovation Coach and Advisor
As an innovation coach and advisor, Dr. Chinchure has created and driven programs to boost innovation, leadership and ideation at workplaces. Some of the initiatives to build ideation and leadership succeeded in orienting employees towards innovation, while one them created a value of INR 100 crores.
He received the Innovation Excellence Award from Indira International for his contributions towards spreading awareness on innovation across India.
Below is a list of his activities to promote a culture of innovation within companies and institutions:
Talks and workshops on innovation at leading Indian organizations including Larson & Toubro (L&T), Mahindra & Mahindra, Crompton Greaves, Tata Management and Training Centre (TMTC), Pidilite, Maruti-Suzuki, Aditya Birla, General Electric (GE), Shell, Intel, John Deere, and Eaton.
Building innovative products for Indian and global organizations. One such innovation, developed 15 years back in Netherlands to measure temperature between 1 K and 1 mK, is still in the market. Another technology developed in India is now spun-off as a new company in USA.
Mentoring several innovative startups working in the areas of healthcare, education, ICT and energy, based in India and abroad.
Led research & innovation at some of the leading organizations in India and overseas. Some of them are:

Reliance Innovation Leadership Centre (RILC), Pune
Honeywell Technology Solutions, Bangalore
General Electric (GE) Global Research Centre, Bangalore
Kamerlingh Onnes Laboratory, Netherlands
Tata Institute of Fundamental Research (TIFR), Mumbai
Growth Strategist
Dr. Chinchure has worked with multinationals, large Indian companies, and startups by formulating organic and inorganic strategies for their growth. This includes helping businesses tap growth opportunities through investments, joint ventures and partnerships to succeed in new and prevalent markets.
Scouting opportunities for investment, joint ventures, and M&A in emerging markets for multinationals and large Indian companies
Helping large Indian companies forge partnerships with the academia
Working with small and medium enterprises to strategize on new markets, partnerships, investors, as well as asset management and other growth strategies.
Helping startups venture into new markets and geographies and build short and long term strategies for expanding markets
Intellectual Property (IP) Specialist
Dr. Chinchure is known as an IP specialist and guides organizations across the spectrum to support their IP needs, implement IP strategies and train employees on areas such as IP search and analysis.
For large MNC and Indian companies, Dr. Chinchure has built and led high performing IP teams to support IP needs across businesses. This included developing IP strategies, policies, systems and processes for effective diffusion of IP within the organization.
Identifying potential technology areas, licensing, enforcement and innovation opportunities for businesses
Conducting validity/invalidity studies, freedom to practice searches, and technology landscaping to support global businesses
Establishing organizational performance indicators and benchmarking on IP activities with other companies
Dr. Chinchure has worked with an IP services startup firm to
Successfully build and lead a team of IP analysts to provide IP analytics services to over 20 global law firms and 5 Fortune 50 companies in the world
Execute over 100 IP projects and review over 200 reports for their quality of search, analysis and presentation of results
Provide IP search and analysis training to over 25 new recruits. He was part of the core team responsible for the expansion of the team strength from 5 to 30 within a span of one year.
Other notable roles and recognitions
Strategic Advisor
Dr. Chinchure is on the board of many non-profit organizations, and advisor to over a dozen companies in sectors across technology, business incubation, social entrepreneurship, digital marketing and consultancy.
More ...
Visiting Scholar & Professional at Major Global Universities & Organizations
Dr. Chinchure worked closely with various universities around the world as a visiting scholar. Following is a list of his past engagements with foreign universities in teaching and research areas:
Visiting scholar and professional at the following universities:
University of Oxford
Rutherford Appleton Laboratory
Southampton University, UK
Institute of Applied Physics (IAPD), Dresden
Max-Plank Institute, Stuttgart & Dresden
Fraunhofer Institute, Germany
Paul Scherer Institute (PSI) Zurich
Maastricht University, Netherlands
European Institute of Asian Studies, Brussels
MIT, USA
Stanford University, US
Princeton University, US
Rutgers University, US
Dr. Chinchure received fellowships from the European Union, Dutch Academy of Sciences, Max-Planck Institute, TIFR and Department of Science & Technology (India).
He also works with leading universities and organizations based in USA, Canada, and Germany on developing new models of innovation for emerging markets.
Jury Member
Dr. Chinchure is the jury member to major awards and competitions:
Tata Innovista Corporate Innovation Awards
Mahindra Rise Corporate Innovation Awards
Praj Mahaintrapreneurship Award
Tata Motor's Imagineering Innovation Awards
Technology Review India - Young Innovators Awards
Economic Times Power of Ideas National Competition
Teenovators National Competition
IP Era Awards
INK Fellows
Sandbox Startup Competition
Sandbox Samvidha Social Impact Competition
Symbiosis Startup Competition
Symbiosis Institute of International Business (SIIB) – Best Alumni and Entrepreneur Awards
Awards & Recognitions
European Union Fellowship to work at the Kamerlingh Onnes Laboratory, Leiden, The Netherlands
Dutch Academy of Science (NWO) Fellowship to work at Kamerlingh Onnes Laboratory, Leiden, The Netherlands
Postdoctoral Fellowship to work at Max-Planck Institute for Chemical Physics of Solids, Dresden, Germany
Scholarship from Department of Science & Technology (DST) for PhD research
Chair Professorship at Symbiosis International University, Pune, India
Dorabji Tata Trust grant to visit to University of Oxford, UK and Paul Scherrer Institute, Zurich, Switzerland
Elected as a Fellow of Society for Technology Management (STEM) for the scholarly engagement, experience and contributions in the field of Technology Management
"Excellence in Innovation" Award from Indira International at Innovation Summit
GE Management Award for the outstanding contribution in the technology development project
GE-Inventors Bonus Award and Bronze Medal for creating intellectual property
GE-Green Belt certification
"Partner Award" from Honeywell Global for identifying technology enforcement opportunity for the Speciality Materials business
Career Highlights - Academic
With Tata Institute of Fundamental Research (TIFR), Mumbai as a Postdoctoral Fellow and Ph.D. Scholar (Jan '92-Jun '00)
With Kammerlingh Onnes Laboratory, University of Leiden, Netherlands as a Visiting Scientist (Jun '00- Oct '01)
More...
Career Highlights - Industry
Dr. Chinchure has played key roles in many large Indian and multinational corporations, leading critical projects related to innovation, intellectual property as well as developing cutting edge technology.
He has worked with:
Reliance Innovation Leadership Centre (RILC), Pune as Asst. Vice President-Innovations (May '08 to March '14)
Honeywell Technology Solutions, Bangalore as Manager-IP for Speciality Materials Business (June '06 to Apr '08)
Intellevate LLC (Part of CPA Group), Noida as Team Leader – Shared Services Team (Jan '05 to May '06)
GE's John F. Welch Technology Centre, Bangalore as Lead Scientist (Nov '01 to Dec '04)
More...
Patents
Dr. Chinchure has filed four patents mostly in the United States, and in countries like Japan, China, and Germany.
More...
Publications
Dr. Chinchure authored 28 research articles published in international journals in the area of condensed matter physics, and has filed four patents as lead and co-inventor in different geographies including US, Europe, Japan in the area of fuel cells.
More...